RK-216 Kawasaki Motorcycle Reflective Kit -- Fits the rear and sides of the saddlebags on the Kawasaki Versys 650 and Versys 1000 Sport Touring Motorcycles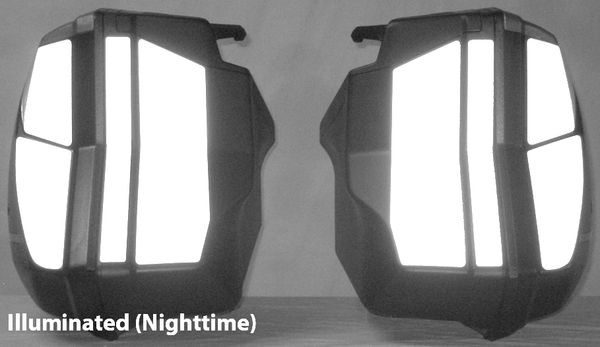 RK-216 Kawasaki Motorcycle Reflective Kit -- Fits the rear and sides of the saddlebags on the Kawasaki Versys 650 and Versys 1000 Sport Touring Motorcycles
Kawasaki's Versys 650 and Versys 1000. Light and quick, these sport tourers have all the essentials to get you where you're going, with all your stuff tucked neatly inside their saddlebags. And our computer-designed Reflective Kit fits those bags beautifully, shining brightly back at car headlights, helping you get noticed more and get where you're going safer.
Toggle between the Normal (Daytime) photo and the Illuminated (Nighttime) photos to see the dramatic difference this kit makes in your presence on the road and how visible you are.
As with all our Reflective Kits, upon request we can custom cut this kit in Red 3M Reflective for those European and overseas customers whose road laws require red reflective to the rear. Just place your order normally and then follow it up immediately with an email to us at MotoReflective@aol.com telling us you want it custom cut in Red Reflective. There is no added charge for this service.
Reviews