RK-17 BMW Motorcycle Reflective Kit: -- -- Fits the rear and sides of the 49-liter BMW Topcase/trunk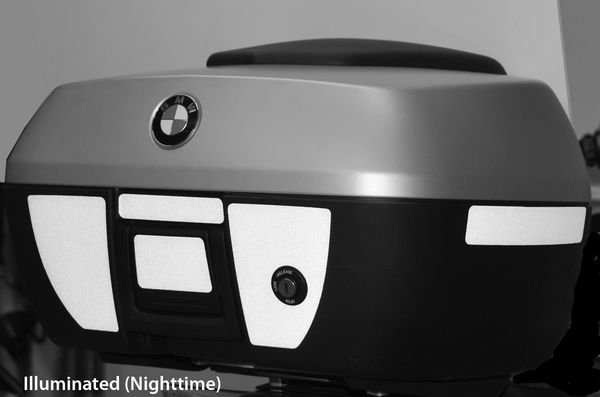 RK-17 BMW Motorcycle Reflective Kit: -- -- Fits the rear and sides of the 49-liter BMW Topcase/trunk
BMW makes two trunks for the R1200RT (2005-2013) and the K1200/1300GT.

This Reflective Kit fits the rear and sides of the BMW 49-liter top case/trunk for those motorcycles

. If you have the smaller 28-liter trunk, then look at reflective kit RK-16. And if you have the newer water-cooled RT with the 48-liter BMW trunk, then you will need RK-19. Toggle between the Normal (Daytime) photo and the Illuminated (Nighttime) photo to see the dramatic difference this kit makes in your presence on the road and how visible you are.
Reviews